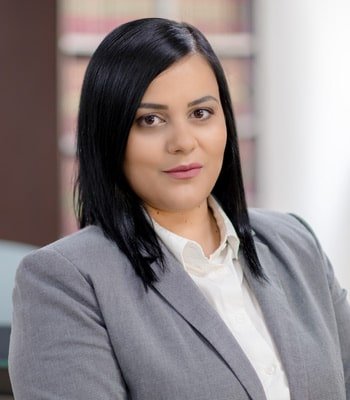 Andrea is a senior litigation associate of the law firm acting for corporate and private clients in commercial disputes. She has extensive experience in all aspects of the litigation process across a broad spectrum of disciplines including: contract, shareholder disputes, real estate, tort, banking and finance and intellectual property.  Her thorough investigative skills and attention to detail enable her to provide focused strategic advice to her clients and incisive court technique. She has significant experience in relation to contract, negligence, fraud, and judicial review representing clients in court as plaintiffs or defendants.
Andrea's practice also covers a broad range of contentious IP matters with a particular focus on breach of trademark and passing off disputes copyright and confidential information cases. She has been involved in many cases in the electronics and telecommunications sectors, FMCG and retail sectors in Cyprus and her work involves cross-border disputes. Andrea regularly presents cases for plaintiffs and defendants in the district courts of the Republic of Cyprus, the Supreme Court and administrative courts.
Related Recent Experience
Advising clients in relation to disputes in loan agreements.
Advising international clients in relation to breach of contract in real estate transaction.
Representing a Chinese client whilst working with a large Beijing law firm on a construction dispute in the Republic of Cyprus.
Representing clients in an international trademark dispute at the company registrar of the Republic of Cyprus.
January 2018-present: Senior litigation associate at Stelios A. Stylianou & Co LLC
17/7/2017-30/11/2017: Litigation associate at Nicolaides Stylianou LLC
16/6/2014-30/6/2017: Associate at Michaelidou & Constantinou LLC
1/1/2014-30/6/2014: Junior associate at Polimnia Lefteri & Co LLC
1/2/2012-1/4/2013: Trainee lawyer at Polimnia Lefteri & Co LLC
Admitted to the Cyprus Bar in 2013
2010-2011: LL.M in Commercial Law, Northumbria University at Newcastle
2006-2010: LLB Hons, University of Leicester
Greek (Native) and English